This Week on Sale: Fat Dragon Games PWYW (and Don't Forget the 2017 Contessa Bundle)
Post by Sophia
Heads-up: I get commissions for purchases made through links in this post.
Fat Dragon Games provide papercraft for your gaming needs. This week only there is a PWYW-sale (until Jul 10th). Go HERE.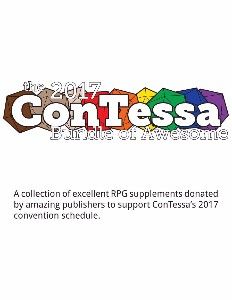 And don't forget the 2017 ConTessa Bundle of Awesome. It runs till Jul 11th. For USD $10 you'll get a fast collection of incredible games (mostly OSR-style).
Examples:
2016 Dodecahedron Cartographic Review: maps, maps, maps by the most prolific old school mapper
Adventure Fantasy Game: unique old school game with a great skill system (I need to review that....)
Book of Lairs: I like Simon's art style but I don't know how good the entries are
Fire On The Velvet Horizon: the ONLY way to get this one-of-a-kind monster book in PDF
Hollowpoint: wonderful indie (non-OSR game) where everything gets fucked up at some point. I played it several times and it was great fun. One of my favorite games.
Macchiato Monsters: cool blend of Whitehack and The Black Hack
Stay Frosty: the Starship Troopers game. Review here
USR Sword & Sorcery: Review here
Troika!: interesting Fighting Fantasy OSR game
Lapis Observatory: check out this youtube video review
---
Links:

Fat Dragon Games PWYW Sale

2017 ConTessa Bundle of Awesome